REFECTOCIL TINTING & PERMING PRODUCTS
ABOUT REFECTOCIL
When eyelashes and eyebrows are tinted and curled, they simply look better! The lashes appear clearly longer and more voluminous, as the tinting accentuates the full length of the lashes faded by sun and water.

A world leading brand Refectocil is today prominently represented in more than 50 countries. Refectocil eyelash and eyebrow tints have been proven and recognized due to millions of successful applications as the leading product for more than 60 years.
Refectocil products are NOT tested on animals.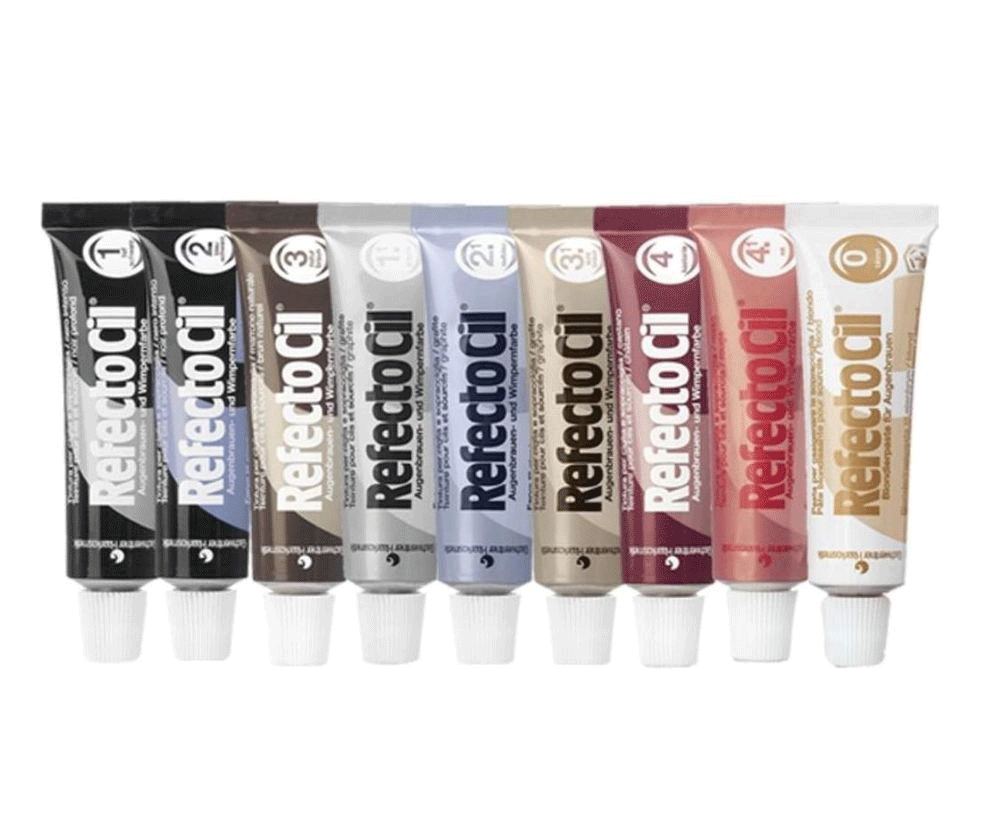 TINTING
The result is deep, full and even more intense than ever before and so the lashes appear visibly longer and more voluminous. The tint is absolutely smudge-and waterproof and lasts up to 6 weeks. With RefectoCil you will always achieve a beautiful, long-lasting and intensive tinting result of eyelashes and eyebrows.
Tinted eyelashes appear clearly denser, as the tinting accentuates the full length of the lashes faded by sun and water. The tint highlights and lengthens short lashes; it adds gloss and shine to dull hairs and freshens already greying lashes and brows.
Tinted eyebrows appear nicely defined and more colour intensive. Your eyes appear livelier and expressive even without make-up. The best result is achieved when applying the tint regularly, because with each tinting the colour will penetrate deeply into the eyelashes leaving them more intensely and longer-lasting coloured.
PERMING
Refectocil Eyelash Perm with collagen and cysteine gives your lashes a wonderful curl, letting the eyes appear larger and more expressive. At the same time the eyelashes are nourished. Unlike mechanical lash curlers Refectocil Eyelash Perm gently forms the eyelashes with the curl lasting up to 6 weeks.
Collagen is one of the commonly occurring structural proteins in the human body. Together with the amino acid cysteine, proved to contribute to hair development, these active ingredients nourish and protect the eyelashes during treatment, allowing them to appear groomed and fuller.
​
The application is simple, safe and takes about 45 minutes. With the choice of 4 different roller sizes you can achieve the perfect eyelash curvature for each customer - independent of eyelash length or eyelash form. Refectocil Eyelash Perm provides a service in your salon that your clients will be enthusiastic about.